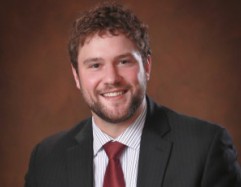 Griffin R. Leitch
Griffin R. Leitch is a licensed attorney and has been practicing law in Minnesota since 2014. He is a 2011 graduate of University of North Dakota, Grand Forks, ND, with a B.B.A. in business management and a minor in sports business. He graduated from William Mitchell College of Law, St. Paul, Minnesota in 2014, where he participated in a family law residency at Central Minnesota Legal Services, volunteered at the family law self-help clinic and was a Mitchell Mentor.
Areas of Practice:
Griffin first began working at our law firm as a law clerk in the summers of 2012, 2013 and 2014. He then joined our firm as an associate attorney in October 2014. He grew up in Willmar, MN, graduating from Willmar Senior High School in 2007.
He mostly focuses his practice on criminal and family law matters.  He is a member of the Minnesota State Bar Association.